73 - 84 of 137 Listings
West Tisbury
LINK ID: 25513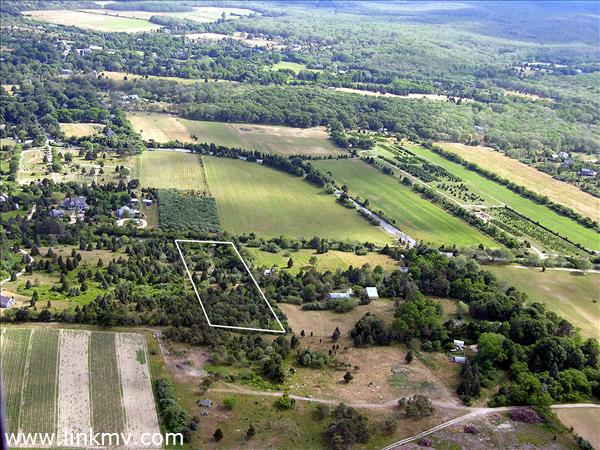 3.00 acres
$595,000.00
Build your dream house and guest house in one of the best areas of West Tisbury. Beautiful three acre lot abutting the Martha's Vineyard Land Bank Preserve in the back and Scotchman's Lane in the front. This lot has the privacy, wonderful diversified vegetation and well already in. We love this lot! An opportunity that will not come up again in West Tisbury if that is where you want to be. Give us a call, we will walk the bounds together. Truly a rare and special land offering.
Edgartown
LINK ID: 21949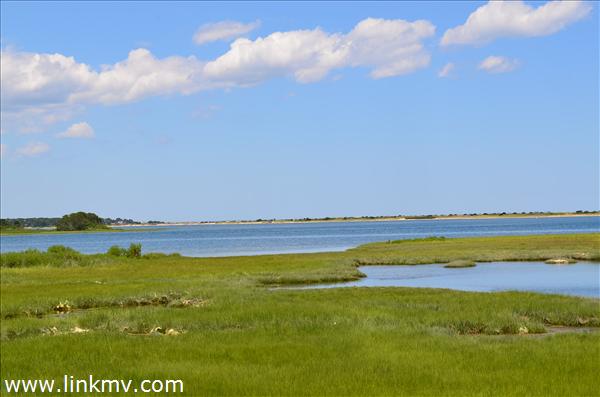 3.40 acres
$599,000.00
Edgartown: Spectacular views over the gleaming waters of Sengekontacket Pond to the barrier beach and Nantucket Sound from this private wooded lot surrounded by coastal marsh and woodlands. Enjoy the warm sunrises and dramatic moon rise over the Sound. Ready to build with the 3 bedroom septic system installed and there is a building envelope that has been approved by the Conservation Commission with an Order of Conditions in place. Great location convenient to Edgartown center, shopping, and harbor.
Chilmark
LINK ID: 27044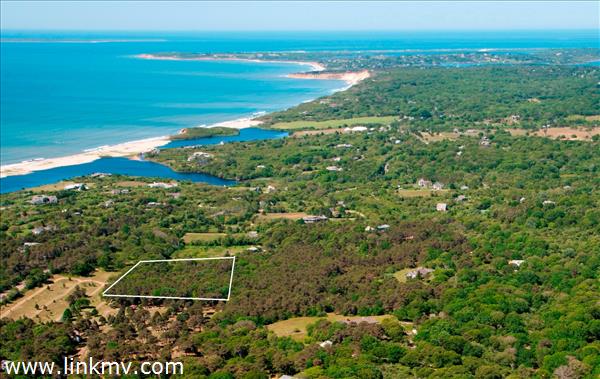 4.00 acres
$625,000.00
Large parcel with beautiful trees located off of South Road on Old Kings Highway West. The land is brush cut and easy to show.
Chilmark
LINK ID: 20411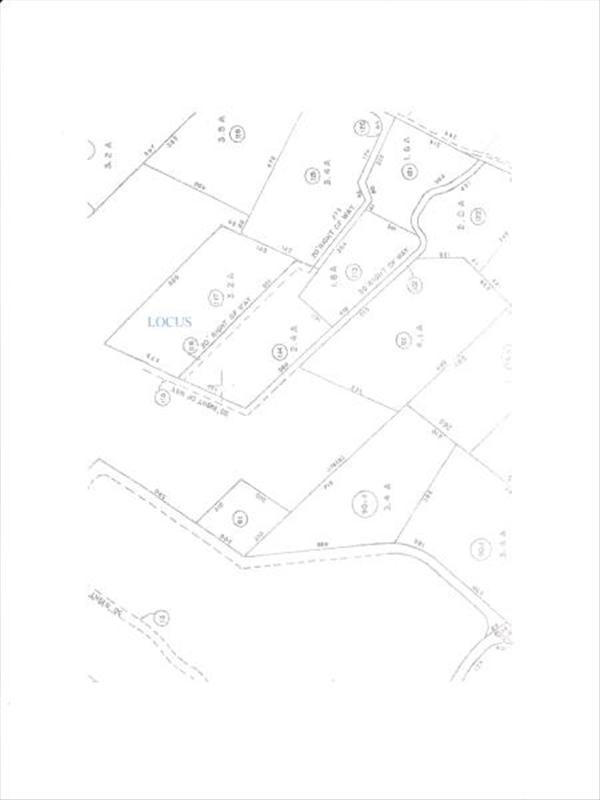 3.20 acres
$625,000.00
Outstanding opportunity to purchase one of Chilmark's prettiest lots. High level building area overlooking a rolling terrain. Nearby access to over 100 acres of the walking trails of Middle Road Sanctuary.
Chilmark
LINK ID: 27051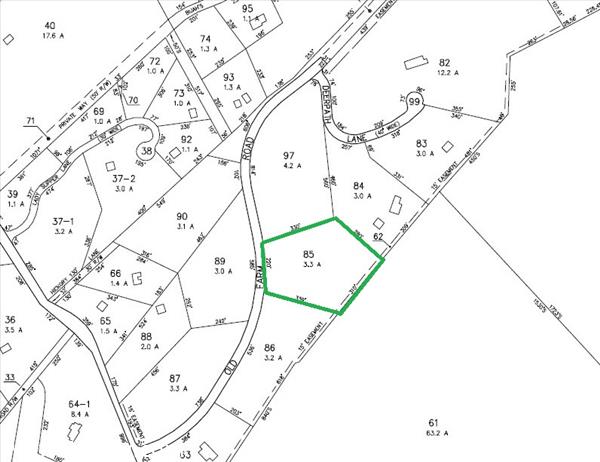 3.30 acres
$630,000.00
Highly desirable centrally located 3.3 acre Chilmark land on lovely Old Farm Road. A nice path from Old Farm Rd has been cleared into the lot for easy viewing. The path leads to a desirable house site. The five corners of the lot have been flagged. This house site abuts an 82 acre private property and is about 350 ft away from the two neighbor houses.
Oak Bluffs
LINK ID: 27105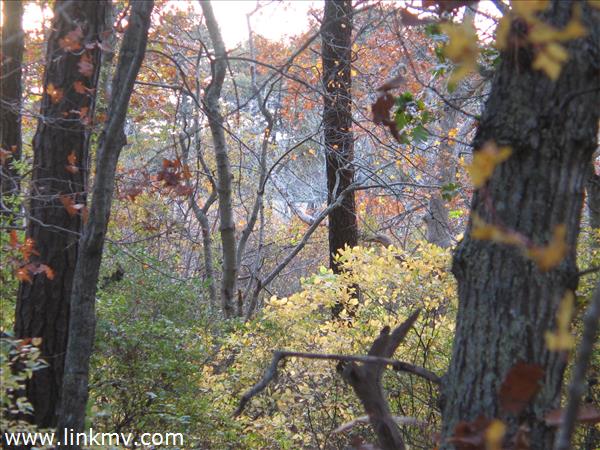 3.33 acres
$649,000.00
Big, beautiful Harthaven lot abutting Farm Neck with very pretty views of the course, while at the same time being very close to the wonderful Harthaven Association Harbor (where you have the potential for a boat slip at the dock) and Beach and about equal distance to the Tennis Courts. This double-size lot is so very pretty and offers a wonderful opportunity for a family compound.
Vineyard Haven
LINK ID: 25989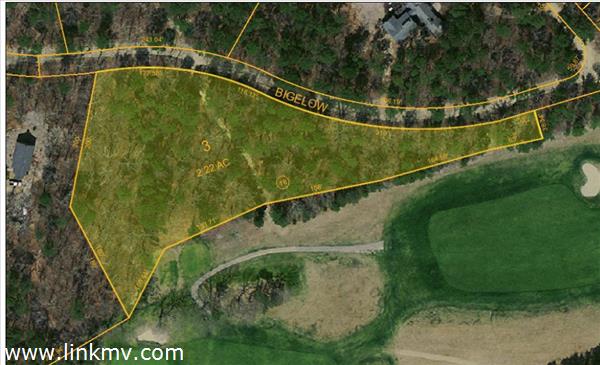 2.22 acres
$650,000.00
Private association beach access and golf course views will be available to the owners of the home that will be built on these 2.2 acres in Mink Meadows. This is one of the last remaining vacant lots in this highly desirable, low-key association with a family-friendly orientation. Mink Meadows Golf Club membership available.
Edgartown
LINK ID: 19497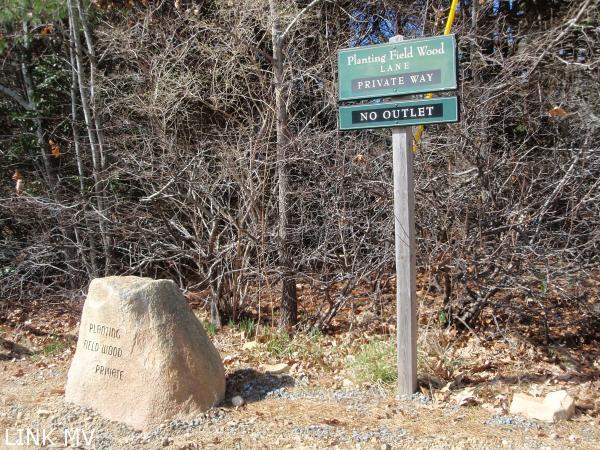 0.72 acres
$675,000.00
Last remaining lot in Plantingfield Wood subdivision on the edge of town. Walk to town, Sheriff's Meadow and the Harbor. Permits existing for 4 bedroom house which meets siting and structural requirements of Conservation Commission. Lot can support 5 bedrooms. Private Association.
Chilmark
LINK ID: 25159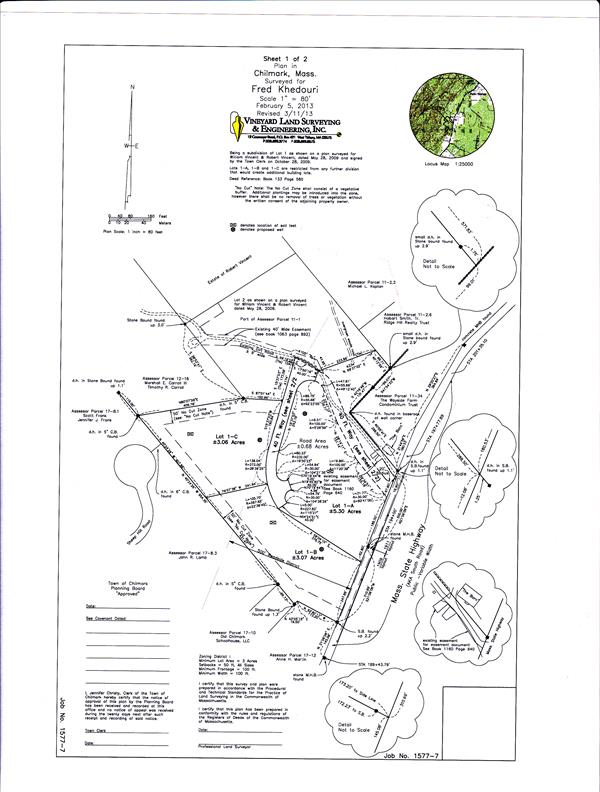 3.06 acres
$695,000.00
Rolling terrain with easy access to Alley's or Lucy Vincent Beach. Several choice building sites. Guest house allowed after 5 years on this lot by special permit. Well and utilities in place.
Vineyard Haven
LINK ID: 23909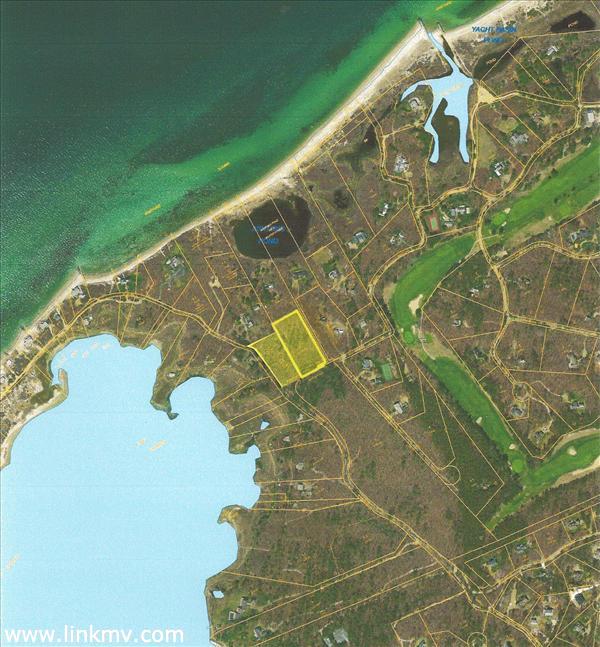 2.87 acres
$695,000.00
This large parcel of land, located in the Coastal Zone district on the eastern side of Lake Tashmoo, includes 2 lots (Parcels 5.1 and 6). The property offers potential for second story water views. It is a very short walk from the property to the Land Bank's north shore beach and a scenic half mile stroll to the Vineyard Sound entrance into Lake Tashmoo and its town beach. Golfers could even walk to the Mink Meadows Golf Course. The village center of Tisbury is about a 10 minute drive. What an ideal location from which to enjoy swimming, fishing, boating, and golfing.
Chilmark
LINK ID: 26711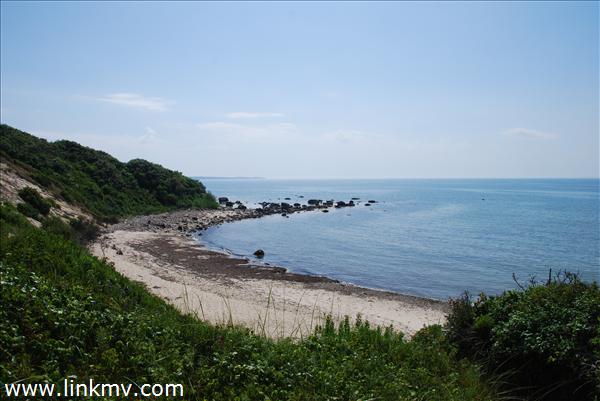 4.85 acres
$720,000.00
Beautiful +/-4.9 acre parcel of unspoiled land in Chilmark with access to miles of walking trails. Includes shared deeded access to 100 ft of private beach shown in this photo. Beach access and the shared cabin near the beach are shown as Lot 2-6 on Map 9 of the Town of Chilmark's assessors maps. This lot is offered with parking for two cars in a specified area near the Land Bank parking lot at Great Rock Bight on Patty's Hill land and is subject to a 100ft greenbelt along Brickyard Road. FYI: Well and septic are not installed. Lot lines are approximate and tax assessment is before the lot was divided into two lots.
Chilmark
LINK ID: 25144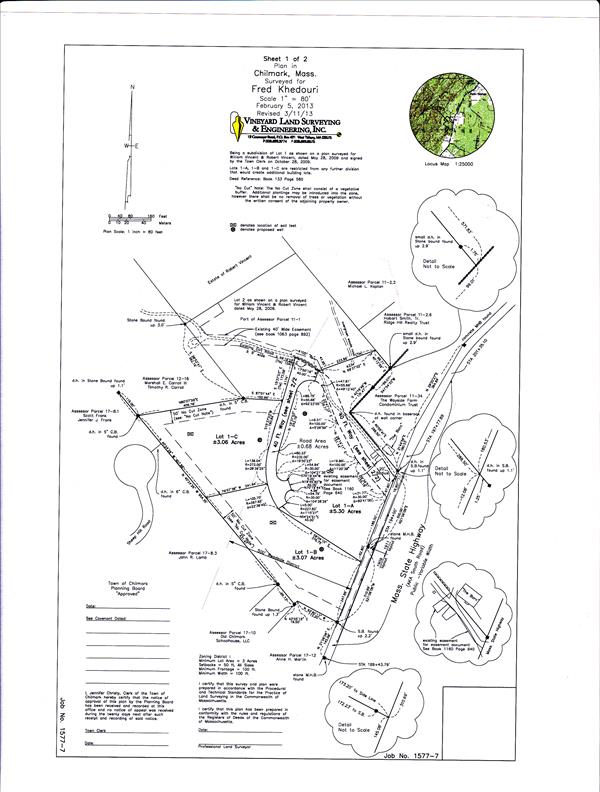 5.30 acres
$720,000.00
Rolling land suitable for just about any style house. This lot is allows one dwelling but would still allow for a barn/garage, or detached studio. Several choice building sites to choose from. Road, well, and utilities are in.